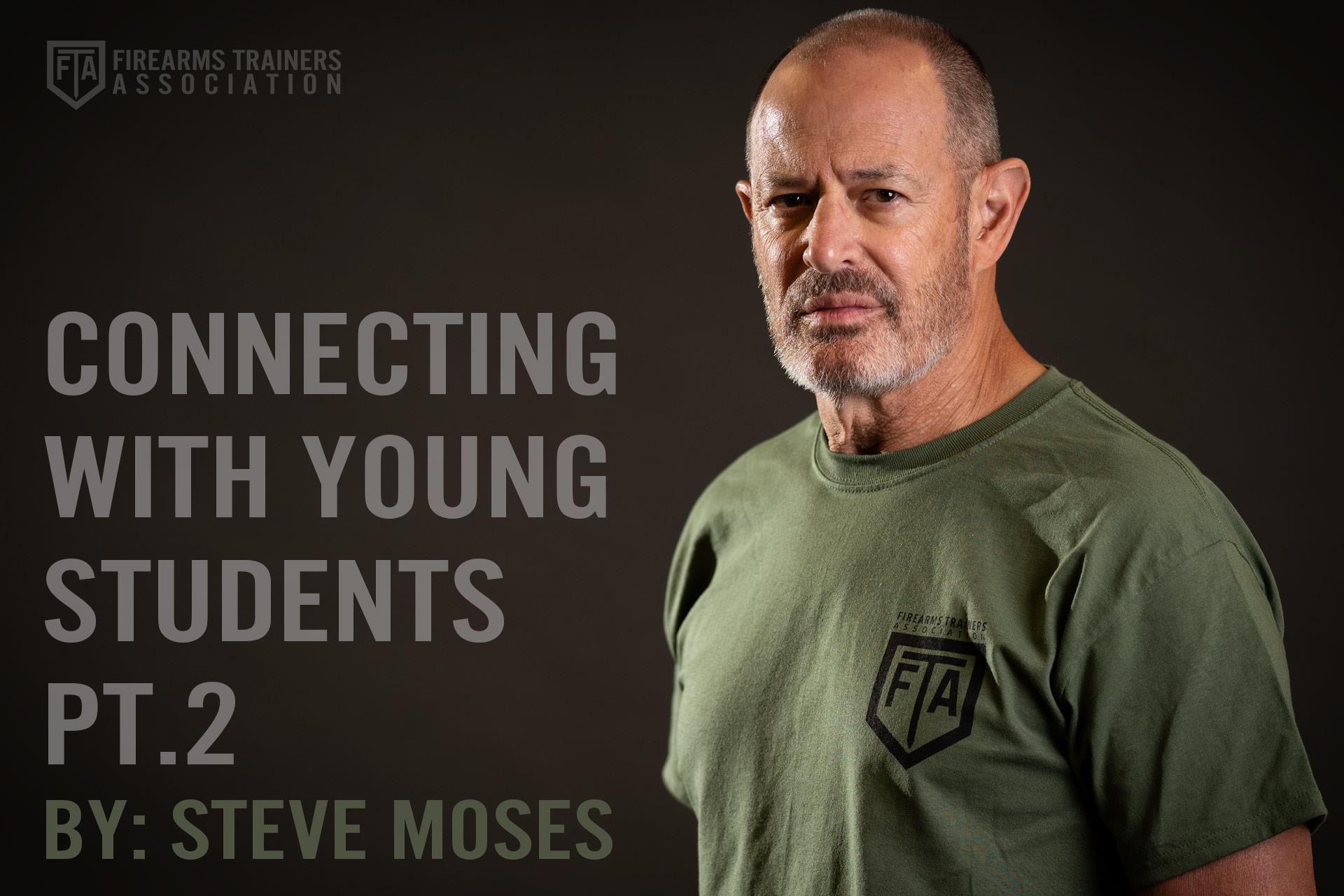 Posted on October 29, 2020 by Steve Moses in Training
Connecting With Young Students Pt.2
CONNECTING WITH YOUNG STUDENTS Pt.2
Part One of this article discussed why firearm trainers might benefit by realizing that the preferred learning style of younger students often differs from that of older students and the importance of understanding how to take advantage of that realization. Part Two is a continuation of a conversation with experienced students David Cagle and Luke Cagle, both of which are under the age of 25.
WHAT DO FIREARM TRAINERS DO IN CLASSES THAT CREATE AN ENVIRONMENT IN WHICH EFFECTIVE LEARNING PLACE? David Cagle said that persons closer to his age require far more engagement in class than older students. An example of a class that will likely fail to successfully engage younger students is one that is overly lecture-based. He summed it up succinctly by stating that younger students almost always respond better to teaching material that is distinctly more visual than auditory.
Trainers who habitually go into great detail about the minutia of a specific skill, technique, or tactic might take note and ask themselves if it is possible to shorten the amount of time it takes to effectively convey the same information, incorporate frequent attention-gathering visual aids, and adding a hands-on element whenever possible.
Surprisingly, Luke said that firearm trainers need to understand that the concept of gun safety is likely to be completely foreign to younger students, and that many students arrive at class fearful of firearms. He stressed the importance in classes of teaching the Four Rules of Gun Safety and issuing easily understood gunhandling instructions. This immediately made me thankful that as a member of the Firearm Trainers Association I had access to their downloadable Firearm Safety Briefing Poster, which provides us with a visual aid in addition to the mandatory safety briefing we do in every class.
Luke noted that he was quite nervous in his first defensive firearms class and immediately relieved and felt more at ease when furnished with readily understandable safety rules and other key protocols. A possible explanation for this is that younger people are far less likely to be raised around firearms. He emphasized several times the importance of visual demonstrations when it came to creating a positive learning experience for younger students. Both brothers believe that younger students respond better to PowerPoint presentations that include a significant amount of graphics and videos than they do to presentations containing slide-after-slide-after slide of bullet points like those typically seen in high school and college classes. I think that it goes without saying that older students benefit just as well from a lesson plan that constantly keeps all of the students engaged.
WHAT DO INSTRUCTORS DO THAT CONSTITUTES A TURN-OFF TO YOUNGER STUDENTS? A lot of instructors tend to talk for extended times while on the range rather than setting out the specific goal behind the upcoming drill and then having the students execute the drill. Students who are not coming to the class with an already established base of knowledge often find it difficult to retain all of the information that they just received and then properly perform the drill. Instructors who break training down into a series of shorter modules that build upon each other may find that younger students are less stressed and able to perform drills at a higher level. Both brothers agreed that instructors that appeared to be not be working off an observable set of Standard Operating Procedures did not come off well.
While growing up, I had older adult teachers that were unable to connect with my generation who appeared to look at teaching as little more than a source of income. I remember how "mean" some of those teachers were (not sure if that was correct, but that was definitely my take at the time), and how little I learned under a math instructor that believed in the "sink or swim" theory of educating students. I also remember teachers that were genuinely interested in seeing their students excel, and one English teacher in particular that I credit with inspiring me to become a creative writer. Firearm trainers have the opportunity to make their students capable of performing at a high level during a moment in time that may determine whether they literally live or die. In order to do that properly, it is our responsibility to know the most effective ways to teach those skills.
---
Steve Moses

Steve Moses has been a defensive firearms trainer for over 26 years and is a licensed Texas Personal Protection Officer with 7 years of experience performing as shift lead on a church security detail for a D/FW area metro-church. Steve is a co-owner and Director of Training for Palisade Training Group, LLC based in Dallas, Texas. Moses is a retired deputy constable and spent over 10 years on a multi-precinct Special Response Team. He owns multiple instructor certifications, including Rangemaster Advanced Handgun Instructor and Defensive Shotgun Instructor, Red Zone Knife Defense Instructor and Adaptive Striking Foundations Instructor, Modern Samurai Project Red Dot Sight Instructor, and State of Texas Personal Protection Officer Instructor. Steve holds a BJJ Brown Belt in Relson Gracie Jiu Jitsu. He is a content contributor for CCW Safe and writes weekly articles on various subjects of interest to concealed carriers. Moses shoots competitively and holds an IDPA Expert rating. Steve is an annual presenter at the Rangemaster Tactical Conference.