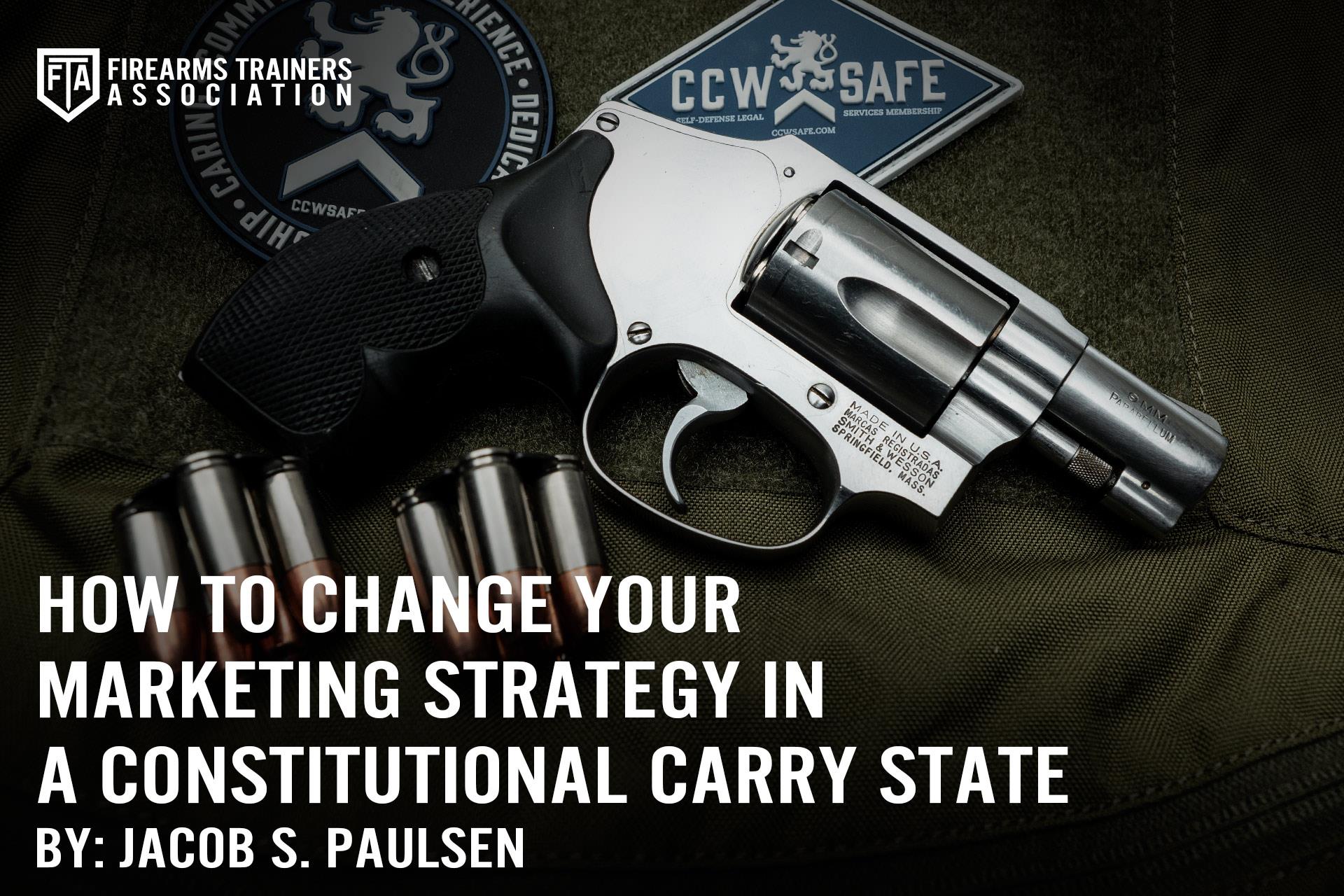 Posted on May 18, 2021 by JACOB PAULSEN in Training
How To Change Your Marketing Strategy In A Constitutional Carry State
Since 2016 the number of US states that have permit-less carry laws in place has doubled from 10 to 20. In 2021 so far 4 states have passed permit-less or what is often referred to as constitutional carry laws and it looks like additional states may be on the cusp of adding themselves to that list.
For many firearm instructors this is a scary moment in their business. For so long a large percentage of firearm trainers have been reliant on the government mandate for training to drive the majority of their new customers into classes.
When faced with the prospect of that driving force completely evaporating the instructor has to make some significant changes to their approach and marketing.
At ConcealedCarry.com we work with instructors in Idaho, Georgia, Pennsylvania, Kentucky, and most recently Utah where no training is required to carry concealed.
With that context in mind here are specific recommendations to support any firearm trainer that will be especially valuable to those who work in these environments.
Keep Your Opinion Out of It
The first and biggest mistake we see is the tendency for instructors who disagree with Permit-less Carry to express that strong opinion on their website or within their marketing materials.
This article isn't the place to argue if required training is good or bad and your website and marketing messages aren't either.
Don't Ignore the Elephant in The Room
The second biggest mistake you can make is to pretend the permit-less carry law doesn't exist. Your potential customers are not naive and are better informed than you think.
If you teach in a state where training and/or a permit was previously required and now it is not you need to directly address that fact on your website and marketing materials.
Embrace it. Don't ignore it.
For example, at the top of our Utah and Kentucky websites we have a message along these lines:
"You may have heard that you don't need a permit to carry concealed in _____STATE NAME. That is true, HOWEVER, without a permit you have a lot of restrictions that burden you as a gun owner. Click here to read all the reasons you should still obtain a permit and take a class!"
You Have to Build A Real Sales Funnel
Without the help of the government forcing people to become your customers you have to up your game as a marketer. The first and most important part of marketing is building a sales funnel.
Simply put, a sales funnel is a mapped-out journey for your customer that generally starts with a low barrier to entry product or experience that leads the customer to progress through the funnel purchasing additional products.
In the future I hope to publish a dedicated article about sales funnels and their impact on marketing but for now the key takeaway and point of action is addressing your initial entry point in the funnel:
Having A Low Barrier to Entry
A marketing funnel is dependent on your ability to add customers at the top of the funnel. For a large majority of firearm trainers your top of funnel product has been a concealed carry class.
If that is no longer working because the government is no longer mandating the training you need to figure out a lower barrier to entry.
Put differently you need a product or service to sell that will attract a large number of qualified customers.
You may not be able to readily convince a large number of people to take a $50-$100 permit class when a permit is no longer required but it likely would be easier to convince those people to attend a 60-90-minute lecture about your states gun laws that only costs $10.
That "Gun Law Lecture" is just one example of many products you might create and sell that are more likely to attract a large number of potential customers.
When your funnel is built correctly the only thing your marketing strategy must do is get more customers into the top of funnel (lowest cost/lowest barrier to entry) product. From there it is your job to drive those students to come back for more and continue through the funnel and product journey.
An Upsell Path in Your Funnel
Of course, none of that "top of funnel" stuff matters if you don't have a product offering that makes up the rest of your funnel.
If you are going to be successful in a firearm training business; especially in a no training required environment you need to have a diverse product offering.
This means having a clearly mapped out journey for the customer that starts with that top of funnel class but progresses them through other training offerings.
An example of that Upsell Path might look like this:
Gun Law Lecture: $5.00
Concealed Carry Fundamentals: $75.00
Defensive Handgun 1: $150.00
Defensive Handgun 2: $175.00
Home Defense: $150.00
Two Different "no training required" Environments
We would fail to do this topic justice if we didn't also discuss states where a permit is still required to carry concealed; but no training is necessary to obtain that permit.
Here are some nuances about these two different environments.
1: Permit-less Carry: In this environment your marketing needs to focus BOTH on the value of obtaining education but also on the value of obtaining a permit. In every permit-less carry state there are advantages to getting the permit with the largest and most obvious benefit being reciprocity with other states.
2: Permit required but training not: In these environments all your marketing messaging needs to be focused on the value of obtaining knowledge and instruction.
Regardless as to whether your training business is based in an environment where training is required or not, I hope these tips and this short introduction to a marketing funnel will be valuable to growing and sustaining your business.
Jacob S. Paulsen


Jacob S. Paulsen is the President of ConcealedCarry.com. ConcealedCarry.com provides in-person and online firearm training for American gun owners. The Company is currently teaching in-person classes in 25+ states with a team of more than 55 instructors. Jacob is a NRA certified instructor & Range Safety Officer, Utah BCI instructor, Affiliate instructor for Next Level Training, Graduate and certified instructor for The Law of Self Defense, and a Glock and Sig Sauer Certified Armorer