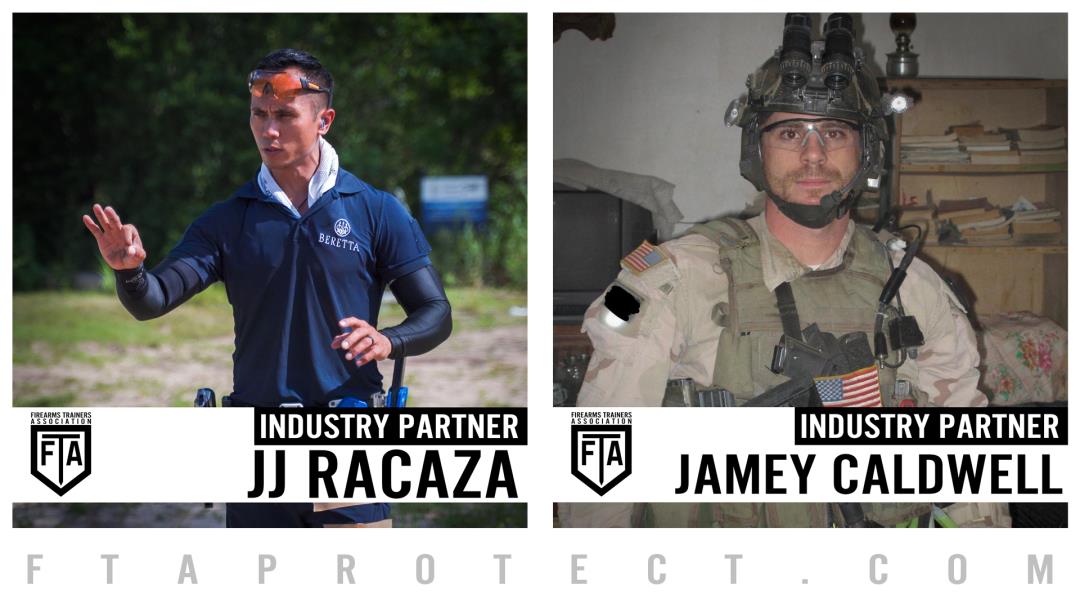 Posted on September 17, 2020 by FTA Protect in Uncategorized
Jj Racaza And Jamey Caldwell Join The Ccw Safe And Fta Team
JJ Racaza and Jamey Caldwell Join The CCW Safe and FTA Team
CCW Safe is proud to announce Industry Partnerships with some of the greatest subject matter experts in the firearms world, Jamey Caldwell and JJ Racaza. These gentlemen join Larry Vickers to partner with the Industry's unquestioned leader in providing legal service plans to concealed carriers through CCW Safe and providing professional liability benefits to trainers through Firearms Trainers Association. With Jamey and JJ, CCW Safe and FTA are able to leverage the knowledge and experience these gentlemen have accumulated in their long careers and pass it along to our members through content collaboration and consultation. We welcome Jamey and JJ! Stay tuned for more!
Sergeant Major (r) Jamey Caldwell, spent more than 21 years in the United States Army, serving his entire career in Special Operations. SGM Caldwell served 7 years with the 75th Ranger Regiment then spent the following 14 years in a Special Missions Unit that maintained a high operational tempo in Bosnia, Iraq, Afghanistan, and numerous other countries in the world. He has deployed to combat 14 times and has conducted well over 500 missions. SGM Caldwell has been awarded three medals for valorous actions in combat while under direct fire from the enemy. During his career SGM Caldwell has consistently dedicated himself to the success of the mission and put the unit's goals in front of his own. He has been sought after for his leadership skills, planning, leading combat operations, teaching marksmanship skills and CQB, culminating from years of adaptive thinking in combat situations.
JJ Racaza is a highly accomplished trainer, world-class competition shooter, and former Federal Agent. JJ is a 3-time world speed shooting champion and he has broken and held multiple world speed shooting records. As a 3-time US Gold Team Member for the World Shooting Championships, JJ led the US Team in 2011 and 2014 to a Gold Medal. JJ is a Triple Grand Master in the USPSA and he was also a high-ranking competitor on the History Channel's Top Shot television program. JJ's instructor and professional credentials are equally impressive. He is a former Federal Law Enforcement Officer with the Department of Homeland Security. During his government service, among other aspects of his job, he served as a Lead Firearms Instructor, Field Training Officer, and law enforcement academy instructor. JJ is certified from the Federal Law Enforcement Training Center (FLETC) as an instructor in firearms, non-lethal training, and defensive tactics.
Visit Jamey Caldwell at:
Website: https://1minuteout.ecwid.com/
Instagram: https://www.instagram.com/1minuteout/
Visit JJ Racaza at:
Website: http://jjracazatraining.com/
Instagram: https://www.instagram.com/jjracaza/