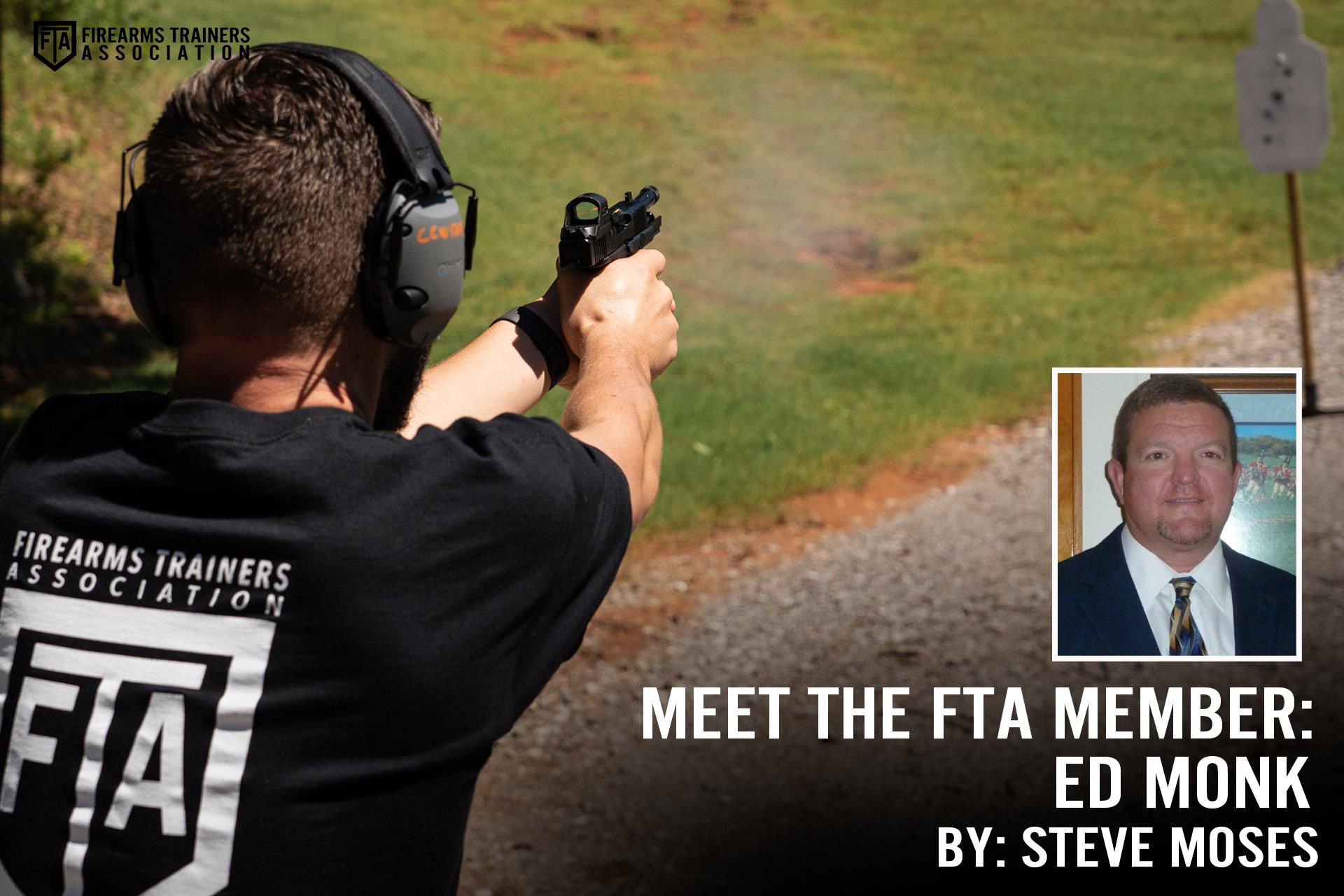 Posted on June 24, 2021 by Steve Moses in Training
Meet The Fta Member: Ed Monk
Tell us who you are, where you grew up, where you live, and where you teach.
My name is Ed Monk. I grew up in and now live in White Hall, Arkansas. My brother and I co-own and operate Last Resort Firearms Training, which is 25 miles south of Little Rock. I also offer live-fire training at other locations when invited and provide presentations on the Active Shooter Threat across the country.
Did you grow up in a home in which adults had firearms?
Yes. My father owned several handguns, rifles, and shotguns, but we used them only for recreational shooting and hunting.
Were you ever in the military, law enforcement, or any other profession in which possession of a firearm was necessary?
I served over twenty-four years active duty in the US Army, including duty in the US, Germany, and Iraq. The first four of those years were as a West Point cadet, then twenty years as an Armor officer, serving in tank and cavalry units. I retired in 2007 as a lieutenant colonel and battalion commander. Following my Army retirement, I was a reserve deputy sheriff in Louisville, KY for two years. For the past ten years I have served as a part-time police officer for my city in Arkansas.
When did you decide to become a firearms trainer, and how did you go about it?
It was slow and gradual. I shot for fun and hunting since age five but was not introduced to defensive handgun training until 1999 by Jim Higginbotham. That started a continuous curiosity and desire to seek out more training. Around 2006, I started teaching beginner classes at an indoor range in Louisville. Two years later, after attending several classes at Tactical Defense Institute (TDI) in Ohio, owner John Benner asked me to start instructing at TDI part time, which I did several times a year until 2010, when I moved back to my home state of Arkansas. Since 2010, I have taught classes at our facility, Last Resort, taught my Active Shooter Response classes in a few other states, and given presentations at conferences and other venues.
Please set out three firearms and/or tactics instructor certifications that you possess that are most relevant to what you teach today and why.
I am a Rangemaster certified instructor (master level) for handguns. Those classes were the most valuable 8 days of gun instruction that I have attended. I am also certified by ALERRT as a CRASE instructor and by Response Options (which became ALICE) as an instructor for Solo Officer Response to Active Killers. Those two are relevant because I have specialized in Active Shooter education and training over the last 10 years.
Please name one (and only one) instructor that you might describe as being a mentor to you.
Tough, because there are several instructors that deserve blame for the instructor I have become. But Tom Givens must get the nod because I have trained the most with him, attending over ten classes with him in the past seven years. His training and mentorship have made me a more skilled and thoughtful gun handler and instructor. He has personally given me several opportunities to instruct, and his nation-wide network of Rangemaster certified instructors has also provided me with instructing opportunities in several states.
What class do you teach that you think benefits students the most?
I would have to say my Active Shooter Response training. I offer several levels of defensive handgun training, and I think I do a good job. But there are many instructors that do an equal or better job. I have not yet seen any training on understanding and countering the active shooter that is similar to what I provide. I began studying the active shooter threat twelve years ago precisely because I could not find any training offered that addressed this threat or how to counter it in a realistic, logical way that saves the most lives. So, I have built a series of presentations to help the public, organizations, cops, and armed citizens understand the active shooter threat, and how best to quickly stop their attacks. I also offer one, two, and three-day classes that include live-fire range drills and scenarios specifically designed for countering this threat. And I now offer a two-day Active Shooter Instructor class for instructors who want to design and offer this specialized training.
What is the most important thing that you have learned as an instructor that perhaps new instructors would benefit from knowing?
To be humble and open minded. With an Army career, some law enforcement experience, and years of being around many other instructors, I have met and worked with many Type A, "my way is the only good way" type of people. There is not just one gun, holster, or technique with which students can be successful. You and I were not born with our current level of knowledge and skill. Don't criticize and insult the gear or skill level a student has when he arrives at your training. Focus on how you can improve that student's readiness during your training and after they leave.
Please provide us with your contact information, including email and website address.
My cellphone number is 870-273-1113. My email is edmonk@aol.com. You can find us on facebook by searching for Last Resort Firearms Training.