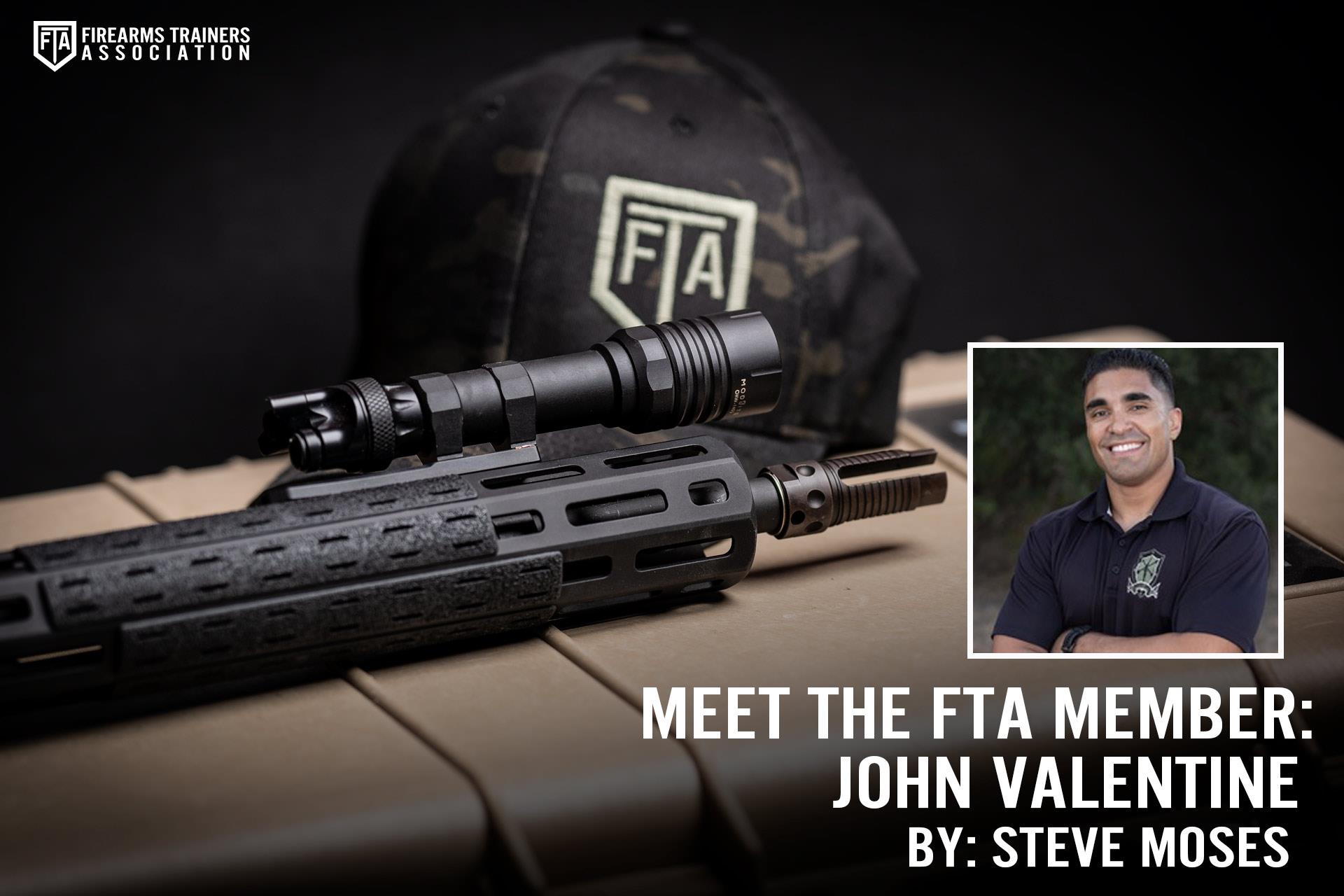 Posted on July 29, 2021 by Steve Moses in Training
Meet The Fta Member: John Valentine
Tell us who you are, where you grew up, where you live, and where you teach.
My name is John Valentine. I was born and raised in the South Bronx of New York City. I've been fortunate to teach in several states, but I mainly teach in New Mexico, Texas, and Virginia.
Did you grow up in a home in which adults had firearms?
It is funny considering where I am today, but I grew up in a very anti-gun household. My family convinced me that firearm ownership was only for the state's criminals or agents (military, law enforcement, etc.). This heavily influenced my commitment to training in martial arts since my youth.
Were you ever in the military, law enforcement, or any other profession in which possession of a firearm was necessary?
I'm currently on active duty and have been since I was 18 years old. My duty position today is patrolman, or military police.
When did you decide to become a firearms trainer, and how did you go about it?
It was emergency readiness that routed me towards becoming an instructor. I was a purple belt in Brazilian Jiu-Jitsu when I got involved in that community and found myself exchanging information with "gun guys" for martial arts training. One of my friends from that community was/is a retired Green Beret. He gave me the confidence and challenged me to find a way to create a program or course that put the pieces together. Being naïve to "Shivworks" at the time, I reached out to the only person I could think of who would know how to do that, which was Matt Larsen, the creator of the Modern Army Combatives Program.
After an internet search, I found Matt owned a gym 10 minutes from my house in Virginia. I ended up being mentored by Matt and working as an assistant instructor with him. Working with him, I had an opportunity to teach combatives and marksmanship for a unit and several private companies. My brown and black belt promotions were from Matt.
Please set out three firearms and/or tactics instructor certifications that you possess that are most relevant to what you teach today and why.
My training teaches people how to perform a set of integrated skills under duress. My three certifications most relevant to this training are Brazilian Jiu-Jitsu Black Belt, Rangemaster Instructor Graduate, and Ultimate Training Munitions instructor.
I put these forward not to impress anyone but impress upon readers that what I do is part of my daily lifestyle. Even with UTMs, this training is conducive to a healthy, realistic experience for the student. It is challenging enough to get significant value and safe enough to where we can train again tomorrow. No student will ever come to a course and be asked to do something I've never done or don't currently do.
Lastly, I would like to illuminate that while my mentors are former or current SOF and I am in the military, that isn't the context I put forward in the coursework. I'm a father and a husband. I'm an average American who has learned a thing or two about a couple things. Nothing special. I care about the average Joe or average Jane. These are regular guys and gals who want to be prepared to protect their families on demand and at the most unforgiving distances for the unprepared. This may start within the clinch. Many gunfights have started off as fistfights. This type of training facilitates the ability to escalate or de-escalate force as needed by the good guys.
Please name one (and only one) instructor that you might describe as being a mentor to you.
Without a doubt, that would be Cliff Byerly. Cliff is one of those guys who has every credential you could possibly want to have as and from an instructor, but he also has the heart of a teacher. He's taken me under his wing to help me develop not only my own personal skillset but also the program I teach others.
Cliff is a true personification of the General Jim Mattis quote about Marines. "Demonstrate to the world, there is 'No Better Friend, No Worse Enemy' than a U.S. Marine."
What class do you teach that you think benefits students the most?
The course that would benefit most people that I teach is called Integrated Combatives. It helps fill in the gaps in knowledge specifically to Combatives training and the ways that close-range gunfights manifest. The primary focus is prevention.
Whether you're a professional in either fighting or accounting, people benefit significantly from this course.
What is the most important thing that you have learned as an instructor that perhaps new instructors would benefit from knowing?
It's not about what you can do at all. It's entirely about the positive impact you make on the student's life. Whether or not you're successful as an instructor should be evaluated based on if the students continue to train in your absence. Having a great weekend is nominal compared to putting people on a path to living a happier and healthier life.
Please provide us with your contact information, including email address and website address.
I'm fairly easy to get ahold of via email at info@green-ops.com.
For more information on either myself or the other incredibly talented Green Ops instructors please visit www.green-ops.com