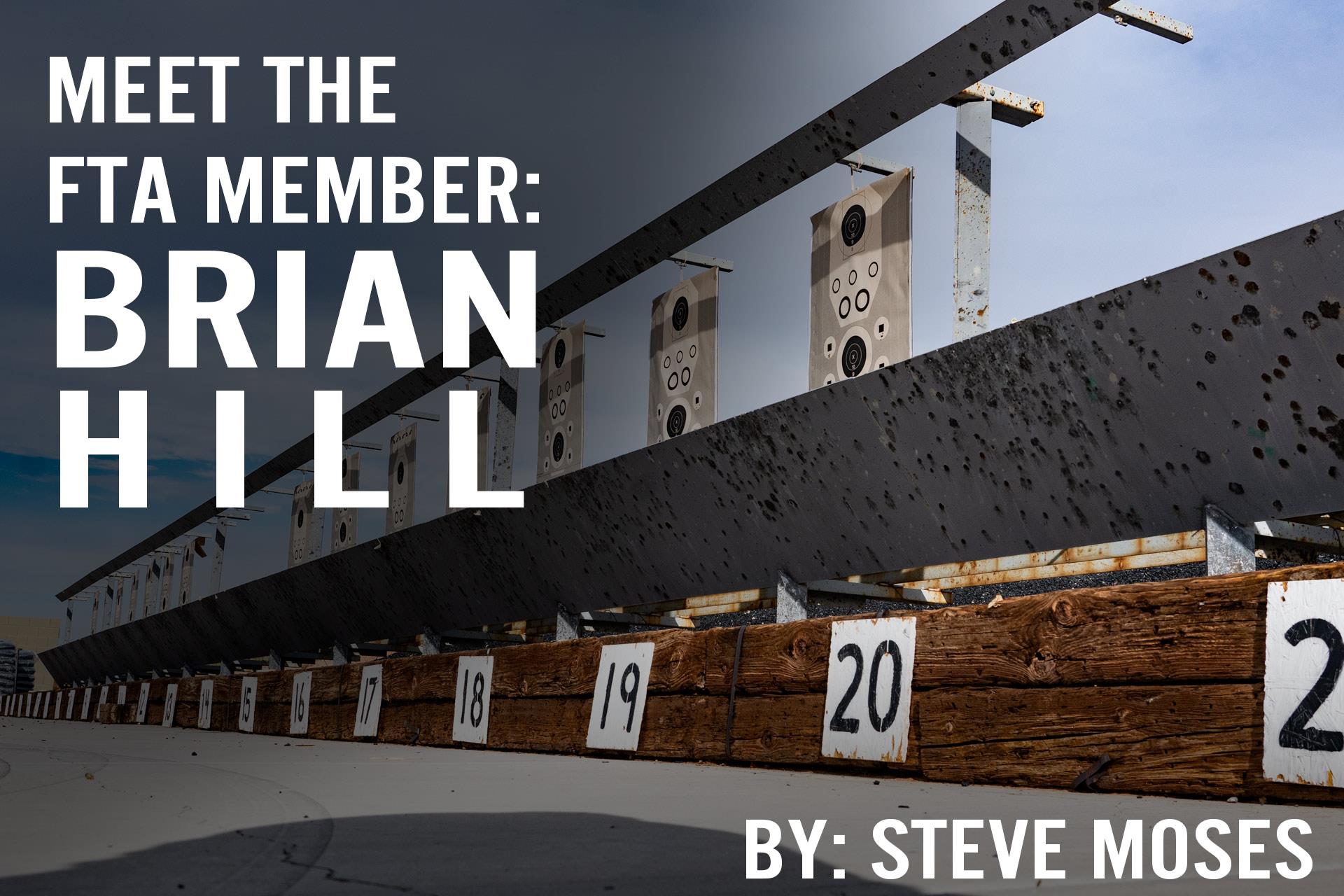 Posted on February 2, 2021 by Steve Moses in Training
Meet The Fta Member Series: Brian Hill


MEET THE FTA MEMBER SERIES: BRIAN HILL
BRIAN HILL
Dahlonega, GA
http://www.thecompletecombatant.com/
Tell us who you are, where you grew up, where you live, and where you teach. My name is Brian Hill. I was born in Miami, Florida, and moved to the Atlanta metro area when I was 12 years old. My wife and I own a range in the north Georgia mountains near Dahlonega, and I am also a traveling instructor. We offer classes in pistol, force on force, and rifle from beginning students to advanced students.
Did you grow up in a home in which adults had firearms? Neither of my parents owned firearms. My first experience shooting was with my uncle, and he introduced me to the joys of the M1 Garand.
Were you ever in the military, law enforcement, or any other profession in which possession of a firearm was necessary? I was a reserve deputy with the Fulton (Atlanta) County Sheriff Office. I have also worked on security and protective service details.
When did you decide to become a firearms trainer, and how did you go about it? I have had a lifelong passion for all things martial. I have been a Martial Art instructor for nearly four decades, an avid shooter, and started firearm instruction eight years ago as an apprentice under a highly qualified instructor Sean Brogan. After several years of being an assistant instructor, a full-time force on force instructor, and a competitive shooter, I attended the Rangemaster Instructor Development course, finally earning my master's level certification in 2020. I am also a Modern Samurai (Scott Jedlinski) endorsed instructor. Teaching all aspects of personal protection for the armed citizen is my full-time job.
Please set out three firearms and/or tactics instructor certifications that you possess that are most relevant to what you teach today and why. The three courses of instruction that have had the most significant impact on me as a teacher are the following:
Rangemaster Instructor Development Course Master Level: This is eight days of training, shooting, coaching, and testing under Tom Givens' watchful eye. Rangemaster is the gold standard of certification in firearms instruction requiring a minimum of 90% to pass both a written and multiple shooting test. I learned how to manage a shooting line effectively and develop a curriculum that tests both the shooters' progress and defensive skills.
Force Science Analyst: Force science institute offers comprehensive courses on understanding human factors and principles that impact the use of force. FSI gives the instructor the analytical skills and data to guide clients in the proper use of force. Performance under stress, action/reaction/response time, memory, and decision-making are crucial for personal protection trainers.
Modern Samurai Project Instructor Certification: The use of the red dot sights is the direction of pistol shooting for the future. The advantages are many, and helping clients use this system to its fullest is vital for a well-rounded teacher. Scott Jedlinski is the top instructor in the use of RDS. Scott has chosen me as an endorsed instructor, and I consider this to be a great honor.
Please name one (and only one) instructor that you might describe as being a mentor to you. I have been fortunate to be surrounded by many great mentors in my career. Tom Givens has had the most significant impact on my progress as a shooting instructor. Continuing education, advice, or teaching opportunities at Tac-Con has helped me grow and reach a wider audience. I am grateful for his mentorship.
What class do you teach that you think benefits students the most? The most beneficial class that I offer is a unique course that I created called Force Readiness. This an immersive experience that starts from the first signs of danger and finishes with the legal aftermath. Pre-need decision making, tool cycling, combative, verbal skills, pressure testing, medical skills, 911 protocols, interaction with the police, and the realities of the legal aftermath are all practiced in a safe environment against resisting opponents. This course provides a complete audit of personal protection skills, tactics, and strategies, allowing each client to evaluate their knowledge and readiness. The data and metrics collected in this class help guide all the course work that we teach.
What is the most important thing that you have learned as an instructor that perhaps new instructors would benefit from knowing? Pursue a wide variety of training and avoid extreme specificity. As a teacher, you should specialize in one subject, such as shooting, but taking classes in teaching, communication, use of force, medical skills, and self-defense law will broaden your ability to offer comprehensive instruction. Excellent teachers are always seeking new knowledge from a wide variety of sources. Be a liminal teacher, spanning several instruction areas, allowing you to relate to your clients' needs at a deeper level, and to understand a broader view of teaching.
Brian can be contacted at Brian@thecompletecombatant.com.
Steve Moses

Steve Moses has been a defensive firearms trainer for over 27 years and is a licensed Texas Personal Protection Officer with 7 years of experience performing as shift lead on a church security detail for a D/FW area metro-church. Steve is a co-owner and Director of Training for Palisade Training Group, LLC based in Dallas, Texas. Moses is a retired deputy constable and spent over 10 years on a multi-precinct Special Response Team. He owns multiple instructor certifications, including Rangemaster Advanced Handgun Instructor and Defensive Shotgun Instructor, Red Zone Knife Defense Instructor and Adaptive Striking Foundations Instructor, Modern Samurai Project Red Dot Sight Instructor, and State of Texas Personal Protection Officer Instructor. Steve holds a BJJ Brown Belt in Relson Gracie Jiu Jitsu. He is a content contributor for CCW Safe and writes weekly articles on various subjects of interest to concealed carriers. Moses shoots competitively and holds an IDPA Expert rating. Steve is an annual presenter at the Rangemaster Tactical Conference.