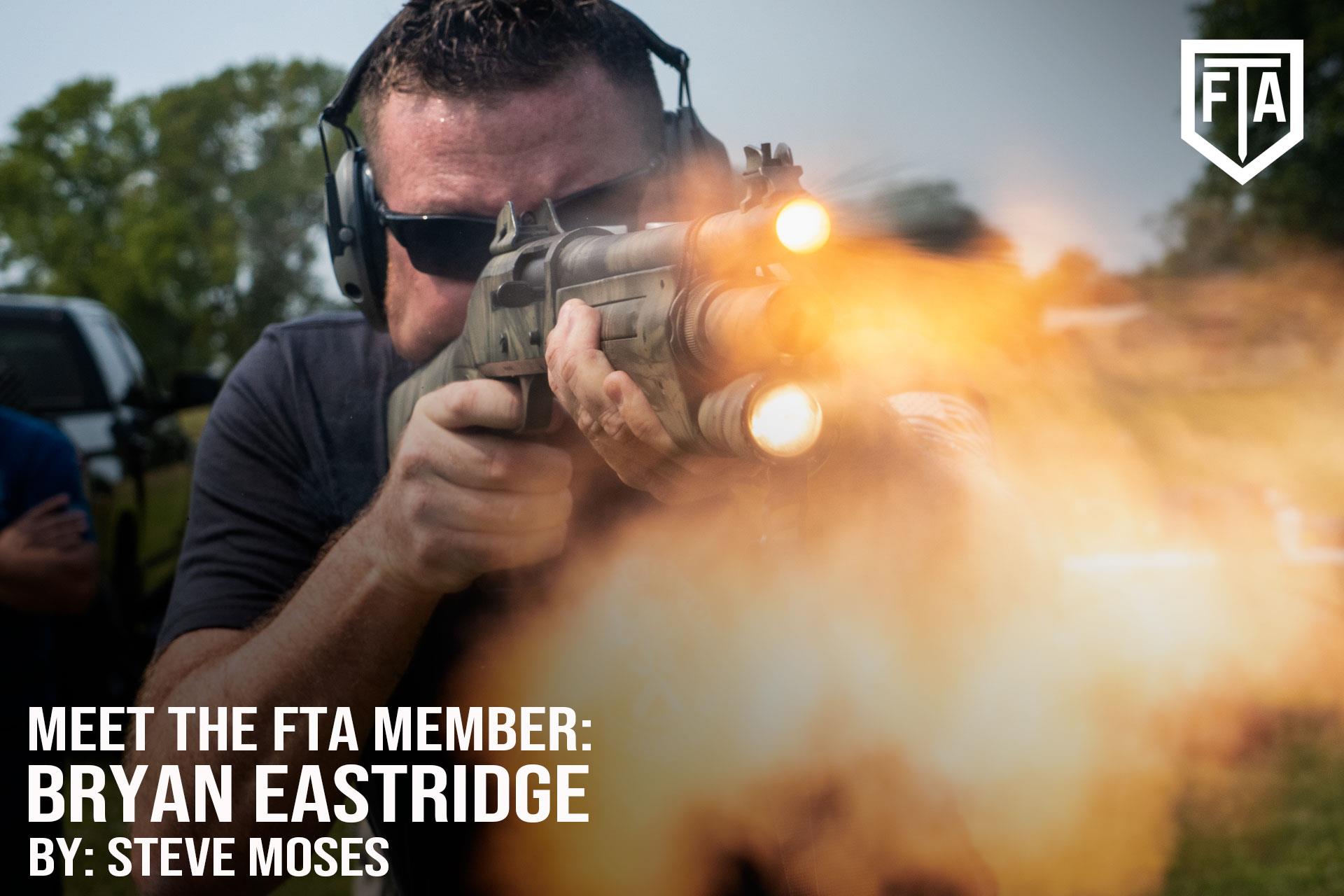 Posted on October 26, 2021 by Steve Moses in Training
Meet The Fta Member Series: Bryan Eastridge
Tell us who you are, where you grew up, where you live, and where you teach.
My name is Bryan Eastridge. I grew up in Moore, Oklahoma, which is a suburb of Oklahoma City. I primarily teach in the metro area of Oklahoma City but also do some travel. I have a dear friend with a facility in Lillington, North Carolina where we teach an annual two-day class. As a result of my commitments to EDC Belt Co and the Off Duty/On Duty Podcast I have limited travel time to teach, but there are a number of private facilities around the Oklahoma City metro area that allow me to put on classes. (Editor's Note: Bryan is also the host of the Off Duty On Duty Podcast, which I think is an excellent resource for FTA Members who are always on the lookout for relevant educational material.)
Did you grow up in a home in which adults had firearms?
I grew up in a house full of cops and hunters. Both of my grandfathers were collectors and hunters. My father, aunt and uncle were all law enforcement officers and guns were just a part of everyday life. Firearm safety was drilled into me from the age of about three. From seven to nine years old we spent weekends at my dad's gun shop or at the local gun shows. I had the great fortune to see the industry from a young age, and with a full-time cop and firearms instructor for a dad I saw the transitions from revolvers to semi autos and many other advancements in the law enforcement training.
Were you ever in the military, law enforcement, or any other profession in which possession of a firearm necessary?
From 1998 until 2002 I served in the US Army as a paratrooper in the 82nd Airborne Division. During that time I quickly gained a reputation as a "gun guy" in my unit and served as an armorer for the company and the "go-to guy" for marksmanship problems, etc. I attended a wide range of Military Schools and firearms continued to be part of everyday life. After I completed my service in the Army I became a full-time law enforcement officer in Oklahoma City where I have served since 2002. I started shooting competition in 2000 while on active duty, and competed in IDPA, USPSA and the old "Outlaw 3-Gun" non -sanctioned 3 gun matches. After becoming a police officer I began competing in NRA PPC and hold Revolver Distinguished badge #740.
When did you decide to become a firearms trainer, and how did you go about it?
I officially became a firearms instructor with my agency in 2005. Prior to that I had some instructor/mentor training in the military that was born out of necessity. I trained with firearms in competition outside of military work and by default became a subject matter expert for my company on the M-4 and M-9 platforms. On the law enforcement side I went through the Oklahoma Firearms Instructor course held in-house by my agency. The course was very demanding of a high level of performance with revolvers, semi-auto handguns, and shotguns. I have remained in the law enforcement realm for many years while still competing and training on my own. In 2018 I started a small individually owned and operated training company Eastridge Training and Consulting LLC as a mechanism to share lessons learned and knowledge to the civilian or concealed carry crowd.
Please set out three firearms and/or tactics instructor certifications that you possess that are most relevant to what you teach today and why.
Currently I hold Oklahoma State Instructor, Firearms Instructor, and NRA Instructor credentials and have attended numerous other instructor level schools. It is impossible for me to put any one as more relevant than any other. Each had valuable information and I took pieces of all of them to develop my knowledge base.
Please name one (and only one) instructor that you might describe as being a mentor to you.
The one instructor that has been the biggest mentor to me is someone probably very few have ever heard of. His name is Bruce Smith. Bruce was my dad's patrol partner for many years, and I had the great fortune of working with him as a professional instructor at our agency. Bruce taught me the most important lesson when it comes to being an instructor: "Question Everything." Question every detail and aspect of your knowledge base and constantly evaluate it. It sounds a bit brash, but has served me well and kept me away from the "newest latest greatest fads" that are often cyclical rehashing of past failures we seem to have forgotten.
What class do you teach that you think benefits students the most?
As instructors we tend to have a knack at over-complicating even the simplest tasks with disregard for context. I spend the first ninety minutes of every class talking through fundamentals and their applications. I attempt to de-clutter the fundamentals by using context and practical/relatable examples. "This is what you've been told, this is when and how to apply it." Several students that have attended remark that the lecture I do simplified the processes of firing a pistol and dispelled myth and misunderstanding of the process in a digestible format.
What is the most important thing that you have learned as an instructor that perhaps new instructors would benefit from knowing?
The most important lesson I've learned is be well-rounded. Engage yourself in a Master's Degree level study of the handgun and be well-rounded enough to pick up any modern service/carry handgun and operate it with confidence. A quick way to lose credibility is not knowing how a student's firearm operates, especially when the student has paid for your class.
Please provide us with your contact information, including email address and website address.