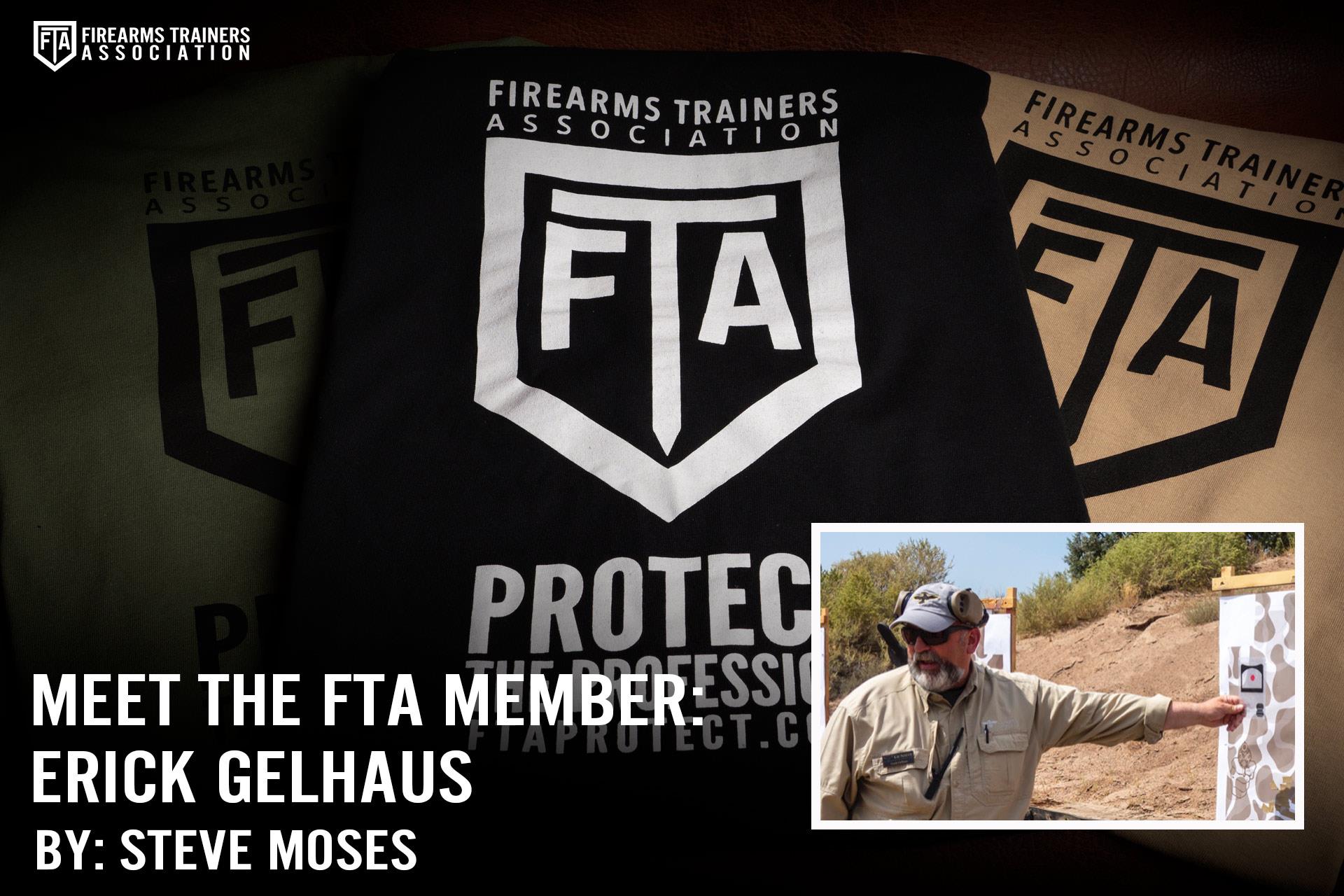 Posted on August 17, 2021 by Steve Moses in Training
Meet The Fta Member Series: Erick Gelhaus
Tell us who you are, where you grew up, where you live, and where you teach.
I'm Erick Gelhaus. I grew up in the northern San Francisco Bay Area, and for now I'm still here. I've been working for Gunsite since 2001. Through my company I teach locally and across the country as classes get arranged.
Did you grow up in a home in which adults had firearms?
Growing up, I can only recall going shooting twice.
Were you ever in the military, law enforcement, or any other profession in which possession of a firearm was necessary?
Yes. I was in all three components of the Army: active, reserve, and national guard. My career highlight was a deployment to Iraq as a weapons squad leader.
I retired from a full career at a northern California Sheriff's Office as a patrol sergeant in the fall of 2019. I supervised a patrol shift along with our use of force/firearms and field training programs. Before being promoted I conducted firearms and field training and worked search & rescue, dispatch, patrol, community-oriented policing, gang suppression, and narcotics.
When did you decide to become a firearms trainer, and how did you go about it?
A few years into my law enforcement career there were openings in our firearms program at work. I was shooting competitively, so I put in. I did well enough in the process that I earned one of the two slots. Once I completed the initial schools, I started assisting with a small local training business doing CCW and defensive firearms training.
After several attending Gunsite classes in 2000 I started the apprentice program there. I finished it and joined the staff the following year.
I was a gun writer for awhile, but I've since reformed. I went into the National Guard and deployed to Iraq. After returning from that trip, I started working on the Aimpoint military pro-staff and teaching for another training provider.
During all of this I have continued being a student, taking classes and going to conferences.
After retiring and as Covid hit (timing is everything) I started my own training company.
Please set out three firearms and/or tactics instructor certifications that you possess that are most relevant to what you teach today and why.
Hands down the first one is my Force Science Analyst certificate from the Force Science Research Center and a parallel certificate from a similar entity. The importance of human factors, human performance, being able to discuss that spectrum ahead of an event with students, and how to address the presence of various factors is significant.
Number two is Aaron Cowan's pistol mounted optics and low light instructors courses. I like the science aspect, the "why" behind what we as humans are doing, and using that foundation to build a program or, a class.
Number three is Tom Givens Rangemaster Instructor Development class. Tom has done a solid job of boiling down a library's worth of material out to what an instructor minimally must be able to convey to the beginning student.
Please name one (and only one) instructor that you might describe as being a mentor to you.
The problem with this one is who. The one who put the most time into directly mentoring me as an instructor was Ed Stock, whom I was fortunate enough to have taught with for several years at Gunsite.
What class do you teach that you think benefits students the most?
Rather than one specific class, I think it is more something I work into the classes I do; that is, the discussions on both human factors and legal considerations. I'm not a lawyer. I work with what the courts have said and how events can happen from a physiological standpoint. The combination of those is very much the foundation for how I approach the material.
I will use ready positions as an example. The courts have addressed what is and is not acceptable in terms of allowing muzzles to cover human beings. I also address the pros and cons of various ready positions in terms of processing time, making good decisions, and achieving good outcomes.
What is the most important thing that you have learned as an instructor that perhaps new instructors would benefit from knowing?
Principle is more important than process. For instance, what are we trying to accomplish and what are the practical ways to get there? An example that comes to mind would be be reloading the pistol in a manner that is based upon on achieving a specific goal.
Please provide us with your contact information, including email and website address.
My email is cmsolutions@sonic.net. and my website is www.cougarmountainsolutions.com/blog. The company can be found on Facebook as Cougar Mountain Solutions and on Instagram as cougar_mountain_solutions.