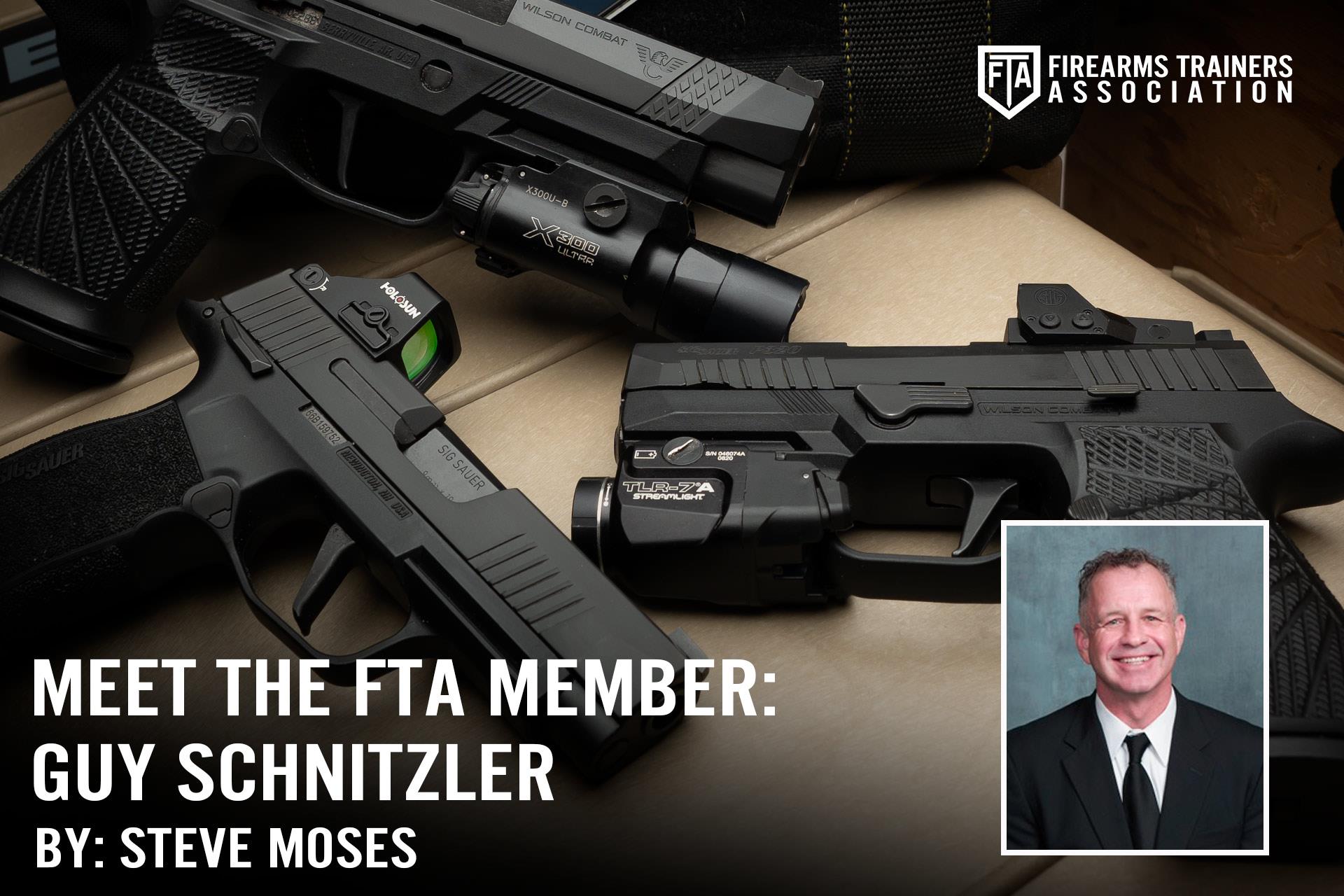 Posted on June 8, 2021 by Steve Moses in Training
Meet The Fta Member Series: Guy Schnitzler
MEET THE FTA MEMBER: GUY SCHNITZLER
Tell us who you are, where you grew up, where you live, and where you teach.
My name is Guy Schnitzler. I was born in Georgia and grew up in Florida and North Carolina. I moved to Texas in 2002 for work. I currently live and teach in the Dallas/Fort Worth Metroplex area.
Did you grow up in a home in which adults had firearms?
Not really. My dad had a .22 revolver but no other guns. We would shoot it on occasion. But he wasn't really into shooting at that point of his life.
Were you ever in the military, law enforcement, or any other profession in which possession of a firearm was necessary
I served six years in the North Carolina National Guard in an infantry unit. I am currently in my 28th year in law enforcement. I was a police officer with the Charlotte-Mecklenburg Police Dept. for nine years and I'm in my nineteenth year with the Federal Air Marshal Service.
When did you decide to become a firearms trainer, and how did you go about it?
Probably in college. I remember picking up a packet of class material at Kinko's and wishing it was handouts for a shooting class.
Please set out three firearms and/or tactics instructor certifications that you possess that are most relevant to what you teach today and why.
Rangemaster Advanced Instructor Development Certificate, my Brazilian Jiu Jitsu Black Belt Certificate from Master Carlos Machado and Professor Brad Scott, and my Immediate Action Combative Instructor Certificate. As of right now, I am the only instructor that has ever been certified by Cecil Burch to teach his entire Immediate Action Combatives program.
Please name one (and only one) instructor that you might describe as being a mentor to you.
That's a hard one, I've been influenced and mentored by so many good instructors over the years. But Cecil Burch of Immediate Action Combatives has mentored me the most. He's guided me in my Brazilian Jiu Jitsu, firearms and combatives training. He has always encouraged me to seek out and train with a variety of instructors over the years.
What class do you teach that you think benefits students the most?
My Seated Shooting Overview course. We sit for more than ten hours a day, yet we rarely train on how to present and shoot while sitting. This course encompasses the draw stroke, target transitions, shooting laterally, and an optimized way to stand from the seated position. Its more about getting students to think than it is a shooting course.
What is the most important thing that you have learned as an instructor that perhaps new instructors would benefit from knowing?
To always be student. To continue to train under other instructors and to train a variety of skills other than shooting, such as combatives, medical, and instructor development courses.
Please provide us with your contact information, including email address and website address.
guy.A.Schnitzler@gmail.com and www.ptgtrainingllc.com.