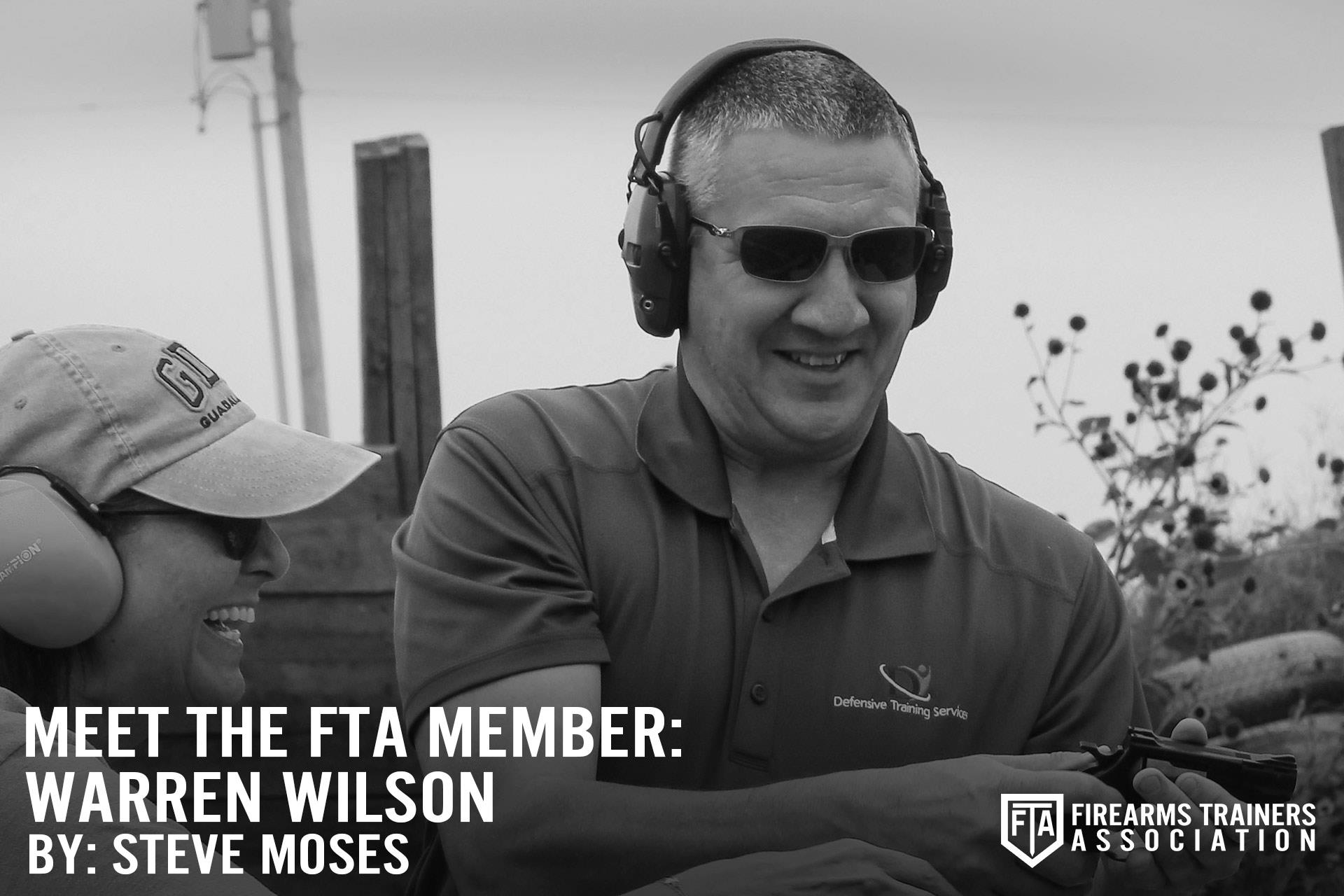 Posted on February 23, 2021 by Steve Moses in Training
Meet The Fta Member Series: Warren Wilson
MEET THE FTA MEMBER: WARREN WILSON
Tell us who you are, where you grew up, where you live, and where you teach.
My name is Warren Wilson. I grew up in far southwest Kansas just a few miles north of the Oklahoma panhandle. I live in Enid, Oklahoma and do most of my teaching at private ranges in the area, the state's basic peace officer academy, and the Enid Police Department basic peace officer academy.
Did you grow up in a home in which adults had firearms?
We had a few firearms growing up, but no one in my family had a fraction of the interest in guns that I did. When I was eleven, I finally got a .22 rifle. By the time I was fourteen, I had two snub-nose revolvers. I'm still enamored with them.
Were you ever in the military, law enforcement, or any other profession in which possession of a firearm was necessary?
I've been in law enforcement full-time for about twenty-five years. I've been a small-town chief, and I am currently the lieutenant in charge of training at my department. I became an instructor somewhat late in my career. Part of the reason for that delay was a debilitating case of stage fright. I've planned and executed dozens of no-knock warrants, planned large traffic events, and worked cops' funerals while in charge of our department's honor guard. Nothing in my life was as difficult as becoming an instructor. That's what has attracted me to phobic students. I get it.
When did you decide to become a firearms trainer, and how did you go about it?
In 2014, I was trying to enroll my sixteen-year-old daughter in one of Lynn Givens' classes. She wanted to speak with me on the phone about it. We had a wonderful conversation and the next thing I knew, I was enrolled in the Rangemaster Instructor Development Program that same weekend. I was writing for Police Marksman at the time and reviewed the class. As you know, Tom Givens used to write for the gun magazines and reviewed classes. It was intimidating. I was taking my first instructor development class and doing a review from a legend in the industry. That was a life-changing experience. I even unconsciously plagiarized the name of my company from Tom. My chief saw that I'd been to the class and transferred me to the Training Division the next month.
Please set out three firearms and/or tactics instructor certifications that you possess that are most relevant to what you teach today and why.
If you'll indulge me, I'll give you what three classes are most relevant
My Rangemaster Instructor Development classes are the basis for everything I teach.

That is my foundation and what I always fall back on first when I have a question as to how to handle something.
CLEET (Oklahoma's peace officer training authority) law enforcement firearms instructor.

That is a hard-won certification.

Oklahoma hasn't watered down their firearms program much over the years.

In order to become a firearms instructor, you must shoot a 540 on the PPC course in the first week or you're out.

About 50% wash out of the program.

The program is still 266 hours in length.
Practical Fundamentals by Op Spec Training's Jerry Jones.

He taught me a lot about not only technical marksmanship, but how to read students and deal with each one as an individual.
Please name one (and only one) instructor that you might describe as being a mentor to you.
If I had to choose only one, it would be Chuck Haggard. I'm basically been stalking him for free information the last few years. But, he's the kind of guy who loves teaching. He told me he doesn't want to die with any information that he hasn't shared.
What class do you teach that you think benefits students the most?
Definitely the basic handgun levels 1-3 classes. I structure them so a student can't take them all at once. There must be a myelination period between them. I get a lot of older first-time shooters in class. Those basic classes are needed far more than advanced and tactical classes.
What is the most important thing that you have learned as an instructor that perhaps new instructors would benefit from knowing?
Make all your classes about service. I see so many "instructors)" that only teach to feed their ego. To keep myself from becoming one of them, I constantly say to my students, "I work for you."
Please provide us with your contact information, including email and website address.
Warren Wilson
customerservice@defensivetrainingservices.com