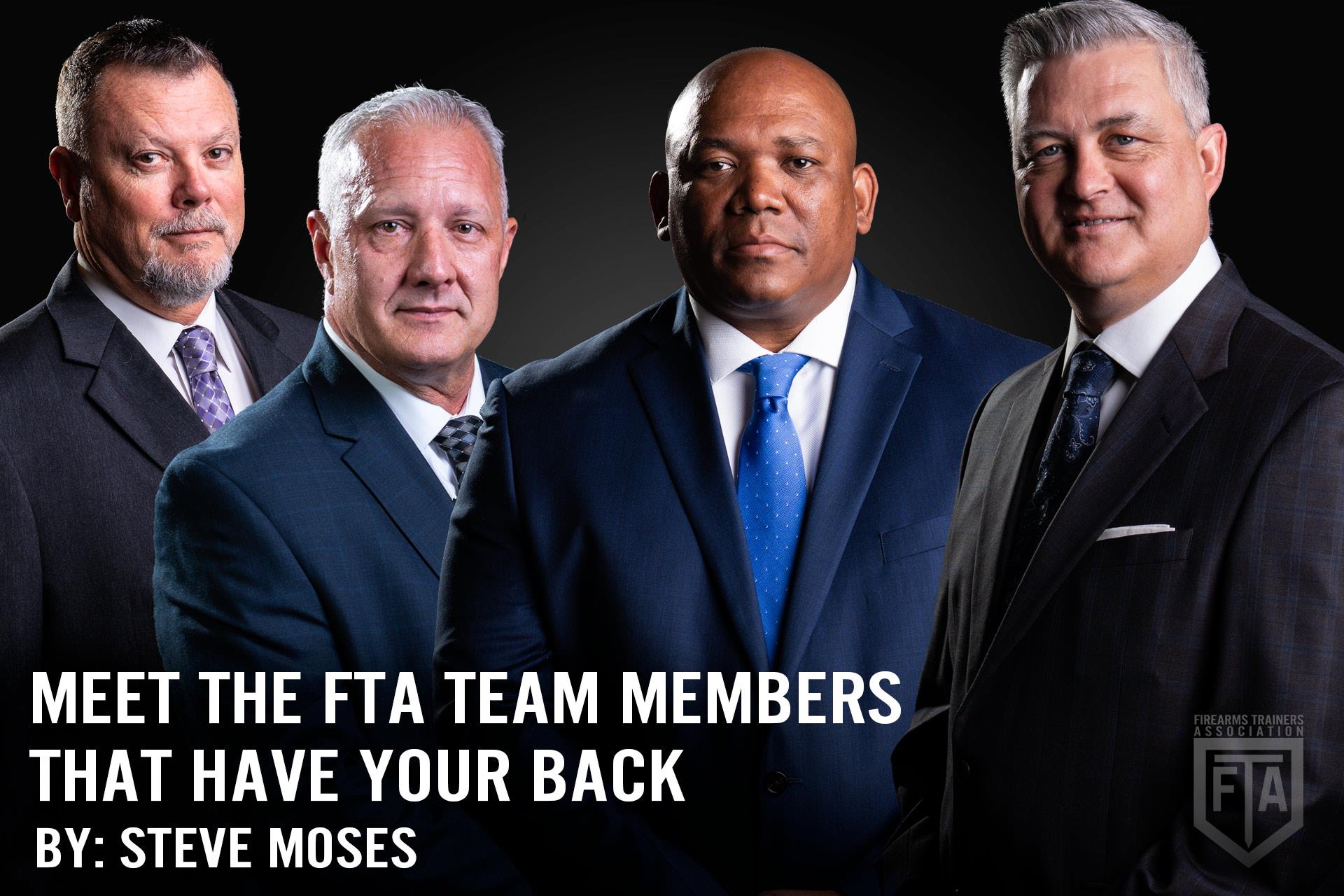 Posted on February 9, 2021 by Steve Moses in Training
Meet The Fta Team Members That Have Your Back
MEET THE FTA TEAM MEMBERS THAT HAVE YOUR BACK

When the Firearms Trainers Association ("FTA") was formed several years ago, I became policy holder number two (Larry Vickers is policy holder number one). This was well before I started doing any work for them. I liked the fact that their mission statement revolved around the development of a professional organization that was designed to legitimize, serve, and develop the profession of firearm trainers without getting involved into politics. The FTA came into being with input from top-tier firearms instructors such as Larry Vickers, Ken Hackathorn, Dave Spaulding, Scott Reidy, and Jeff Gonzales. I have touched on in previous articles the value I found in the written safety briefings, Waivers of Liability, use of the FTA logo, and the videos and articles offering training tips.
A significant benefit of FTA membership is comprehensive liability coverage backed by the 2A Insurance Captive. This not only helps me protect what I have worked for but meets the requirements of all the ranges at which I teach. Those of us that are providing firearms training to others are doing so at no little financial risk.
Several prospective members have asked me what members of the FTA team are involved in the event of a claim. The role of the firearms trainers listed above was to help develop the FTA into an organization that better served the needs of professional firearm trainers. However, none of them will be involved in handling any claims on behalf of a FTA member other than possibly in the role of an expert witness, and then only if the circumstances require it. The actual parties that will be directly involved are members of the same team that handles CCW Safe claims. Set out below are the names of the FTA team members that will be directly involved in the event that a FTA member is in need of assistance.
Kyle Sweet is both an owner of and General Counsel for both the FTA and CCW Safe. As an attorney, Kyle owns Sweet Law Firm and specializes in defending many of the largest insurance companies and health systems in the United States in catastrophic injury cases. Sweet has won national Attorney of the Year on two occasions for two of the largest systems in the area. He also defends police officers in Use of Force cases, in-custody deaths, and allegations of police brutality, and is part of the CCW Safe Critical Response System to law enforcement agencies in officer-involved shootings throughout the region. What most people do not know is that Kyle is also a former police officer.
Stan Campbell is also an owner of both the FTA and CCW Safe. Stan sits as Chairman of the CCW Safe Claims Committee. Campbell has worked hundreds of Use of Force cases as a police lieutenant and spent over twenty-five years developing and teaching self-defense, tactics, de- escalation techniques and other curriculum and was responsible for training over 4,000 officers. He is also part of the same team that defends police officers in Use of Force cases, in-custody deaths, and allegations of police brutality.
Gary Eastridge is also a retired law enforcement officer. He spent twenty-one years with the Oklahoma City Police Department and retired as a detective in the homicide unit. Gary also served as a department firearms instructor. Subsequent to retirement he worked homicides as a police officer with the International Police Task Force in support of the United Nations Mission in Kosovo. He became Chief Investigator for the Oklahoma County District Attorney's office in 2007 and retired in 2017 to accept the position of Critical Incident Coordinator for CCW Safe.
Rob High is a Use of Force expert, content specialist, member of the Critical Incident team for CCW Safe, and content specialist and training coordinator for the FTA. Rob retired as a detective assigned to the robbery unit from the Oklahoma City Police Department after twenty-five years of service. High is recognized in the United States Federal Court as an Expert Witness on Use of Force and was a department firearms instructor. He earned nationally recognized certifications in Control and Defensive Tactics, Police Use of Force, and Arrest and Control. Rob was considered the subject matter expert in these areas for the Oklahoma City Police Department from 2003 to 2010. He was also the Training Coordinator for their police academy during that same period.
I am occasionally asked as to how membership in the FTA compares to that of any other organizations operating in the same field. My response has always been to advise that person to conduct their own research when it comes to comparing services in order to draw their own conclusions. What I will do is identify the people at the FTA that will have their back if something bad happens that is training-related in which they are involved, and I will vouch for the integrity, ability, experience, and concern that each of them has for the FTA members.