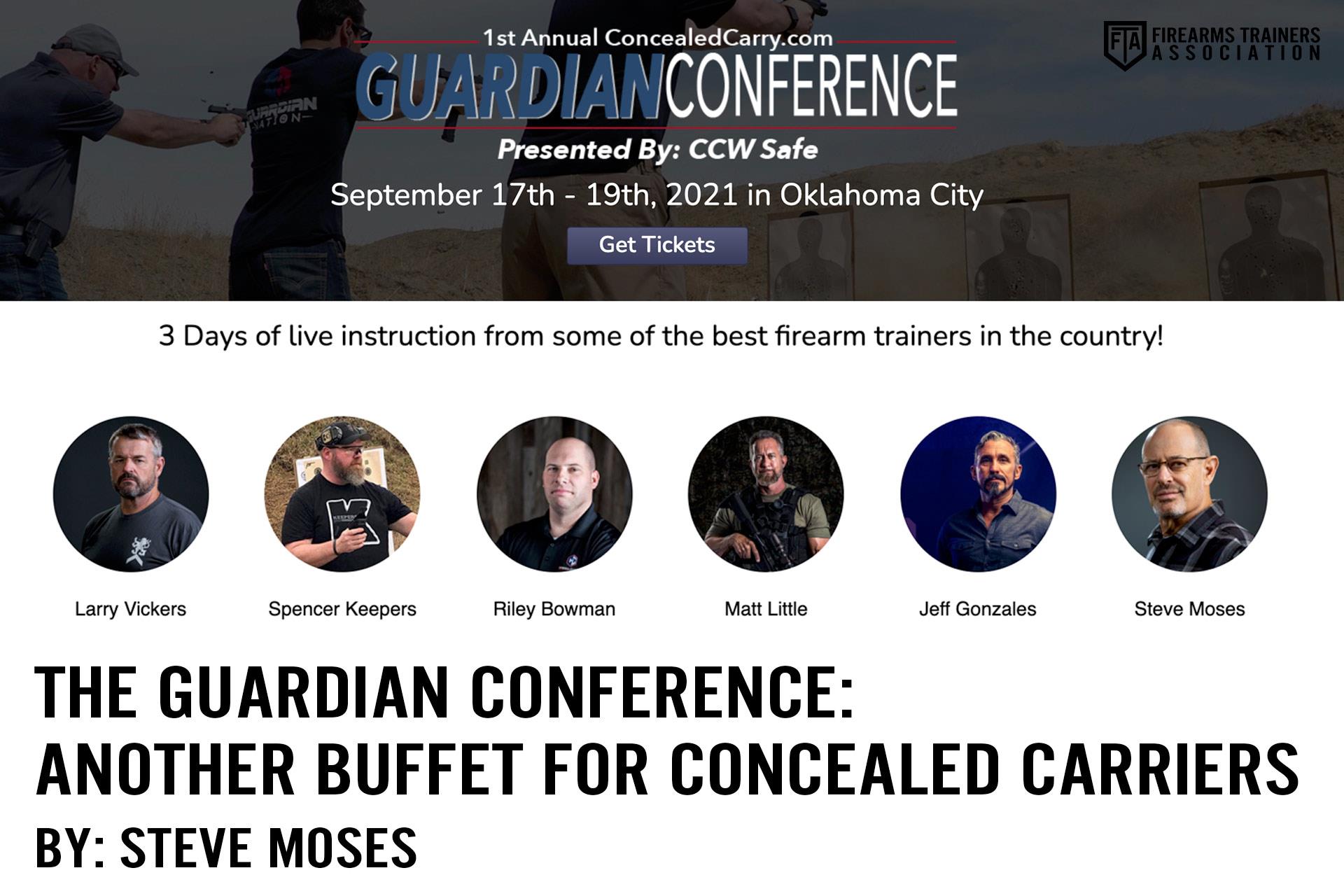 Posted on May 20, 2021 by Steve Moses in Training
The Guardian Conference: Another Buffet For Concealed Carriers
I have been an annual presenter at the Rangemaster Tactical Conference for well over a decade and consider it to be one of the absolute best single training events available to concealed carriers interested in participating in multiple two-hour and four-hour blocks over three full days covering handgun, shotgun, and empty-hand skills, defensive tactics, emergency medical and trauma care, legal issues, defensive tactics, and more. At the March 2021 Tactical Conference, I taught a block on Armed Movement in Crowds along with Palisade Training Group co-owners Allan McBee and Guy Schnitzler, and as of right now we are scheduled to teach at the 2022 event in Dallas, Texas. However, the Tactical Conference is much like Christmas. It only comes around once a year, and a whole year is a long time to wait between events.
CONCEALEDCARRY.COM and CCW Safe must have known what I was thinking, as they have announced that the first annual CONCEALEDCARRY.COM Guardian Conference presented by CCW Safe will take place on September 17-19, 2021 at the Oklahoma City Gun Club in Arcadia, Oklahoma (about a 45-minute drive from the Oklahoma City Will Rogers Airport). This means that the Tactical Conference and the Guardian Conference are scheduled literally six months apart. Concealed carriers who are able to attend even one of these events will most likely agree that this is an incredibly cost and time-efficient way for to train under some of the best instructors in the self-defense community. For those able to attend both it is like having Christmas twice, and probably does not get any better than this.
Guardian Conference sponsors in addition to CCW Safe are XS Sights, Range Tech Shot Timers, Mountain Man Medical, EDC Belt Company, Throom Shoot Ricochet Free Targets, and Ready Up Gear.
Like the Tactical Conference, the Guardian Conference will feature multiple 2-hour and 4-hour blocks taught over three days by some of the best instructors in the United States. Blocks of instruction will cover handgun shooting (both performance and tactical), unarmed combatives, legal topics relevant to self-defense, trauma care, and defensive tactics. Attendees may attend as many training blocks as their time allows over three full days of training. Instructors scheduled to teach at the Guardian Conference at this time are:
Larry Vickers
Spencer Keepers
Riley Bowman
Samuel Middlebrook
Bryan Eastridge
Hany Mahmoud
Andrew Branca
Matt Little
Jeff Gonzales
Steve Moses
Todd Fossey
Brian McLaughlin
In my opinion, concealed carriers regardless of their level of experience should never stop being students. The state of the training industry is changing constantly, while certain training fundamentals regarding unarmed self-defense, defensive tactics and firearm skills, and medical training have not changed, others have. In order to stay current, conferences like the Rangemaster Tactical Conference and the Guardian Conference excel. I would be hard-pressed to come up with a more effective way to stay current and improve than to attend courses taught by instructors known for their expertise on specific topics relevant to concealed carry. The icing on the cake comes in the form of opportunities to meet and socialize with like-minded attendees and the various trainers. I have found conferences like these to be great social events in which life-long friendships often develop.
Breakfast and lunch will be furnished each date as well as on-site snacks and water. Cost is $750 ($600 for Guardian Nation members), and I as write this Early Bird pricing is $650 ($500 for Guardian Nation members). Math is not my strong suit, but most three-day firearms classes that I take from a single top-tier instructor cost about the same and do not include meals, and in this case there are twelve top-tier instructors traveling from a number of different states. Hotel group rates at the close-by Fairfield Marriott and Hampton Inn located in Edmond, Oklahoma are available and surprisingly affordable.
To register to attend, go to www.guardianconference.com.