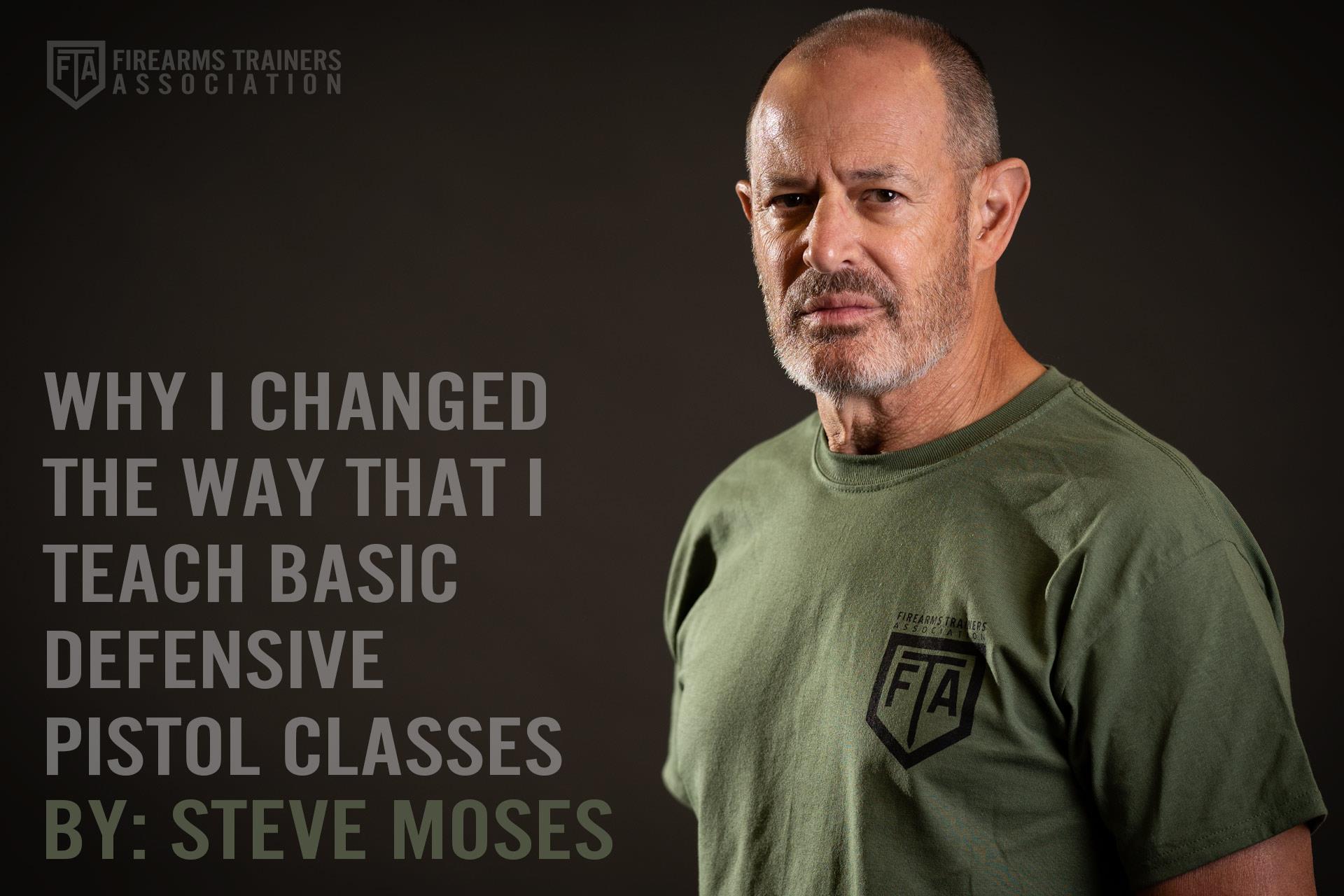 Posted on October 23, 2020 by Steve Moses in Training
Why I Changed The Way That I Teach Basic Defensive Pistol Classes
WHY I CHANGED THE WAY THAT I TEACH BASIC DEFENSIVE PISTOL CLASSES
My business partner, Allan McBee, and I have been teaching defensive firearm courses since 1994. We have taught basic pistol classes, intermediate pistol classes, advanced pistol classes, defensive shotgun classes, defensive carbine classes, solo operator structure clearing classes, church security classes, defensive knife classes, and contact distance defensive skills classes. In addition, I have taught executive protection and law enforcement dignitary protection classes (I am a Texas licensed Level Four Personal Protection Officer instructor).
About five years ago we significantly changed the way that we were teaching our basic pistol classes. We based our decision upon the fact that 100% of our objective in each class was focused upon defending our life and those of our loved ones using a specific defensive tool, and we viewed mindset, knowledge, and tactics as being every bit as important as skills. There is no shortage of handgun instructors that are more skilled shooters than Allan and me, but not a lot that put significant effort into covering material not related to simply running a handgun competently.
Where am I going with this? I was contacted by a CCW Safe employee (who himself is an extremely competent handgun and defensive skills instructor) recently and asked if I could recommend a good defensive firearms trainer in the Dallas/Fort Worth area to a member, and suddenly realized that at that moment I could only think of a few. This may very well come as a shock to CCW Safe members in this area because there are probably hundreds of handgun instructors in the Dallas/Fort Worth metroplex area. In response to those that might think that I am arrogant or judging others too harshly, the truth is that I think that a basic defensive handgun course should be taught in much the same way a student driving education course is taught, and only personally know a few other active instructors in this area at this time that do that. A good student driving instructor will place as much focus on knowing the traffic laws and defensive driving as he or she will actually put into teaching novices how to drive a vehicle.
Much of the material taught in many state-mandated concealed handgun carry licensing courses is presented in such a manner that it may not make a significant impression upon the students. The students might be anxious to just get through the course and pass the written exam, and the manner in which the material is presented may seem dry and perhaps even irrelevant. If either is true, the student may not truly understand what he or she needs to know or how to effectively and lawfully respond in a high-stress life-or-death confrontation with another person who has unexpectedly initiated or threatened to initiate a violent criminal act against them.
Allan and I decided that we would focus primarily on teaching students in our basic classes who may not have recognized that merely owning a handgun and being able to shoot it well might leave them largely unprepared to deal with all of the possible challenges they may face if attacked by others who could care less if they lived or died at their hands. The last thing that I am recommending to other instructors is that they alter their lesson plans if they are happy with the existing content. What I am throwing out for consideration is the idea of making sure that our students are exposed to material at some point that will go a long way towards increasing their ability to accomplish the following objectives:
Avoid conflict and danger.
Comport themselves in such a manner that suggests that they will be difficult to surprise.
Move about in such a manner that prevents others from ambushing them from a superior position.
Obtain a base understanding of criminal mentality and possible motivations in order to lessen opportunities that they will be targeted.
Immediately disengage at the earliest opportunity at the first sign of danger.
De-escalate confrontations immediately if possible.
If forced to defend and the only solution is applied violence, do so both effectively and lawfully. Knowing their state's Use of Force laws is key.
Avoid making errors that increase the possibility of being criminally charged or worse, incarcerated, if forced to defend themselves.
As always, defensive firearm trainers are all individuals with varied backgrounds, experience, motivations, and personalities. If the suggestions set out above do indeed resonate with an individual trainer but they do not feel up to the task or inspired to teach in a similar manner, then perhaps their students would still benefit by being informed that they should also pursue the non-shooting side of carrying a concealed handgun for self-defense and perhaps even being referred to another instructor for additional training. At the end of the day, what matters is that our students are far better prepared to defend themselves than they were when they first arrived at our class and understand that developing handgun skills is only one part of proceeding along that path.
---
Steve Moses

Steve Moses has been a defensive firearms trainer for over 26 years and is a licensed Texas Personal Protection Officer with 7 years of experience performing as shift lead on a church security detail for a D/FW area metro-church. Steve is a co-owner and Director of Training for Palisade Training Group, LLC based in Dallas, Texas. Moses is a retired deputy constable and spent over 10 years on a multi-precinct Special Response Team. He owns multiple instructor certifications, including Rangemaster Advanced Handgun Instructor and Defensive Shotgun Instructor, Red Zone Knife Defense Instructor and Adaptive Striking Foundations Instructor, Modern Samurai Project Red Dot Sight Instructor, and State of Texas Personal Protection Officer Instructor. Steve holds a BJJ Brown Belt in Relson Gracie Jiu Jitsu. He is a content contributor for CCW Safe and writes weekly articles on various subjects of interest to concealed carriers. Moses shoots competitively and holds an IDPA Expert rating. Steve is an annual presenter at the Rangemaster Tactical Conference.