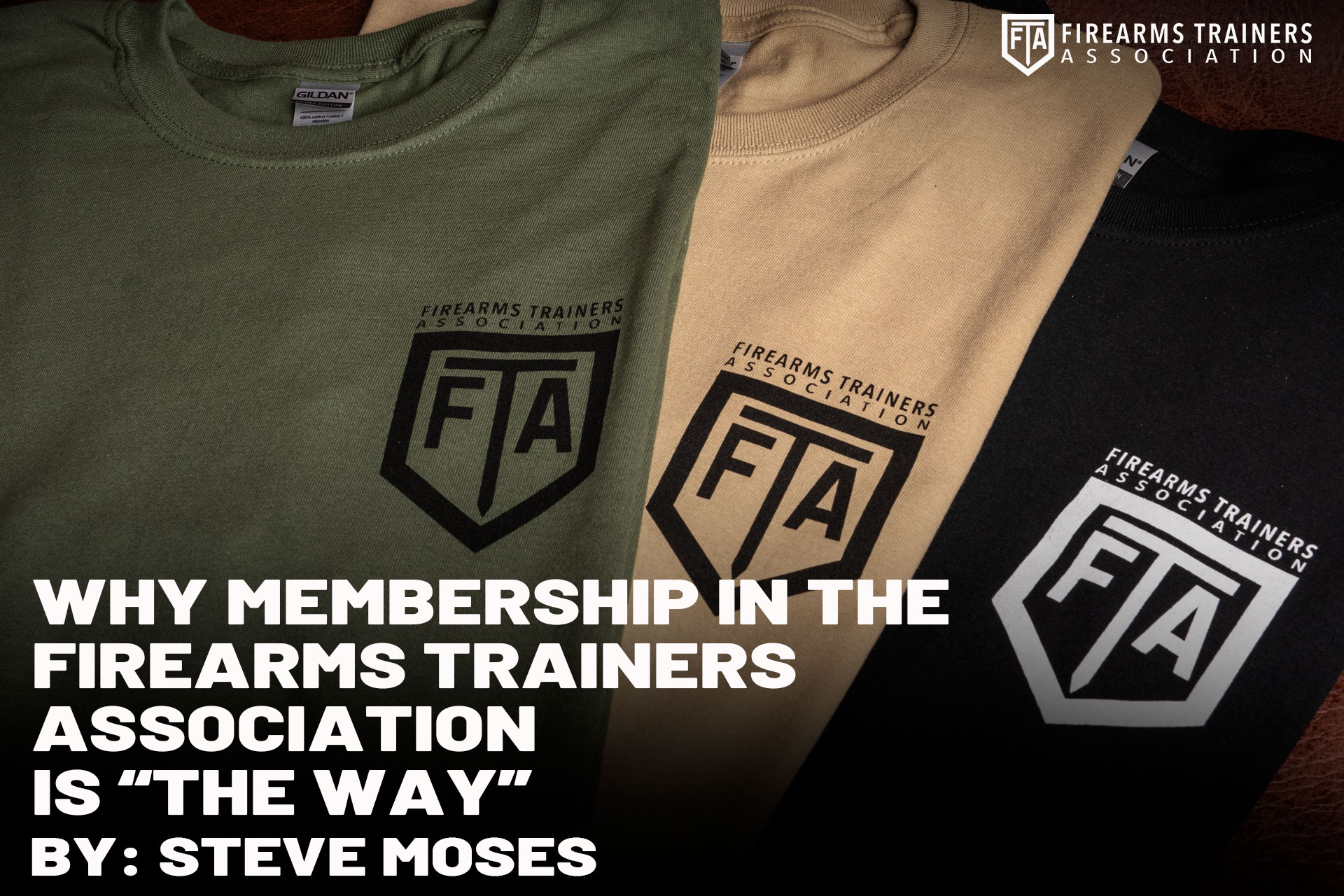 Posted on June 16, 2023 by Justin Collett in Steve Moses
WHY MEMBERSHIP IN THE FIREARMS TRAINERS ASSOCIATION IS "THE WAY"
When I heard the announcement of the formation of the Firearms Trainers Association ("FTA") I was intrigued. The FTA mission statement included the development of an organization that was designed to legitimize, serve, and develop the profession of firearm trainers without getting mud-sucked into politics. Benefits included written safety briefings, waivers of liability, pre-class medical checklists, assistant instructor waivers, and use of the FTA logo. The FTA constantly publishes videos and articles that offer training tips and tackle challenging situations and scenarios that firearm trainers may encounter in future classes.
A significant benefit of FTA membership is comprehensive liability coverage though the FTA by 2A Insurance Captive. Defensive firearms instructors that are providing training to others do so at no little financial risk. No matter how hard we strive to maintain a safe class, we are not able to control all the actions of all of the students all the time. Negligent discharges are possible, and students can fall and break wrists and ankles or blow out knees. I can only imagine how my life plus that of my wife might be affected if I were bankrupted due to a lawsuit. In addition, all the ranges at which I teach require evidence not only that I have liability coverage but that they have been added as an additional covered party. The FTA will furnish its members with unlimited Range Endorsements for no additional fee.
The actual parties that will be directly involved in the event of a claim are members of the same team that handles CCW Safe claims. Set out below are the names of the FTA team members that will be directly involved in the event that a FTA member is in need of assistance.
Kyle Sweet is both an owner of and General Counsel for the FTA and CCW Safe. As an attorney, Kyle is a partner in the Sweet Dewberry Hubbard Law Firm

 

and specializes in defending many of the largest insurance companies and health systems in the United States in catastrophic injury cases. Sweet has won national Attorney of the Year on two occasions for two of the largest systems in the area. He also defends police officers in Use of Force cases, in-custody deaths, and allegations of police brutality, and is part of the CCW Safe Critical Response System to law enforcement agencies in officer-involved shootings throughout the region. What most people do not know is that Kyle is also a former police officer and an avid shooter.
Stan Campbell is also an owner of both the FTA and CCW Safe. Stan sits as Chairman of the CCW Safe Claims Committee. Campbell has worked hundreds of Use of Force cases as a police lieutenant and spent over twenty-five years developing and teaching self-defense, tactics, de-escalation techniques and other curriculum and was responsible for training over 4,000 officers. He is also part of the same team that

defends police officers in Use of Force cases, in-custody deaths, and allegations of police

brutality.

Gary Eastridge is a retired law enforcement officer. He spent twenty-one years with the Oklahoma City Police Department and retired as a detective in the homicide unit. Gary also served as a department firearms instructor. Subsequent to retirement he worked homicides as a police officer with the International Police Task Force in support of the United Nations Mission in Kosovo. He became Chief Investigator for the Oklahoma County District Attorney's office in 2007 and retired in 2017 to accept the position of Critical Incident Coordinator for CCW Safe. Gary is the FTA Account Manager.
I joined the FTA team as an off-site customer support representative in late 2020. I typically am the first point of contact for both members and prospective members where my duties include answering questions, generating Range Endorsements for members, and writing training-related articles. I frequently field calls from trainers interested in joining the FTA that ask if members have to teach a FTA-approved curriculum. The answer is a definitive no, although all classes taught by FTA members must require their students to sign an approved safety waiver (the FTA provides a downloadable safety waiver). Firearms trainers who also teach force-on-force, OC/Pepper Spray, defensive combatives, and emergency treatment of gunshot wound classes should be pleased to find that they are covered when teaching those blocks of instruction. 
As for myself, I have been a professional firearms trainer for nearly thirty years and have attended more than one hundred defensive shooting and tactics classes and clinics. I am a co-owner of a training company located in the Dallas/Fort Worth area and a retired Deputy Constable (reserve) where I was a member of a multi-precinct Special Response Team for ten years that later merged into the Tarrant County Sheriff's Special Weapons and Tactics Team. I am a Brazilian Jiu Jitsu Brown Belt, Rangemaster-certified Master Firearms Instructor and Defensive Shotgun Instructor, a Texas Level 4 Personal Protection Instructor, and have instructor certifications in Empty Hand Knife Defense, Red Dot Pistol, Less Lethal/OC, Force-on Force, Active Shooter, Patrol Rifle, and Tactical Anatomy. My school frequently travels and we have taught classes in dozens of ranges in eight states. In other words, I have learned a lot over the years what it takes to be a successful firearms trainer (as well as what not to do) and am most happy to share what I know or answer questions that come my way. And more importantly, if I don't know the answer, I know who to go to that does.
I am frequently asked to compare the FTA to similar companies and my response to that question is to politely decline. I believe that most of those companies will do exactly what they say they will do and the odds are good that at some point I might state something that is inaccurate or out of context. My entire sales pitch is nothing more than encouraging  prospective members to look at the expertise, experience, and quality of the FTA team who will cover their backs in the event of a claim that could affect them and their families for years, and ask themselves if there is another team that  they think could do it better. If so, then that is the team they should choose.